ASUS is the leader of the new digital era, offering a full range of the most modern and high–tech products
ASUS corporate mission: to provide innovative IT solutions.
We follow the mission thanks to three main principles:
Loyalty to technology, Quality, and Long-term relationships.
Loyalty to technology
Technology is the heart of ASUS. We are always ready to offer you the most modern innovations.
Quality
Quality is immensely important for ASUS. We constantly monitor the quality of products, so our customers can be sure that they will receive a high-quality product.
Long-term relationships
One of the most important success factors is a strong relationship with partners and customers. We are growing together with you.
We guarantee:
individual approach;
optimal choice;
uninterrupted operation of the computer equipment purchased from us and prompt service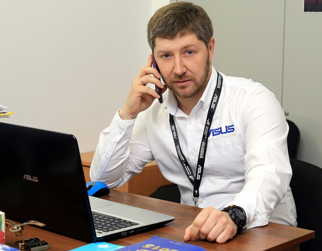 Dmitry Kalashnikov
founder, director of the online store
and the ASUS service center in Almaty
Our advantages

The widest range of ASUS products in Kazakhstan asusshop.kz with a flexible system of discounts: laptops, transformers, tablets, smartphones, monoblocks, monitors, motherboards, video cards, network equipment, etc;

Professional advice when choosing equipment based on our many years of experience.
We know the design features and advantages of each model;

The possibility of ordering exclusive models;

A unique offer to improve the technical characteristics of the equipment (upgrade) while maintaining the official warranty;
Assembling system blocks according to your parameters;

Plus three months of additional warranty;

IT outsourcing. 1 month of free maintenance;

Online store and branded service centerasusservice.kz on the same site;

Service support on priority terms;

Discounts up to 20% on post-warranty repairs

Delivery in Almaty and Kazakhstan is free of charge by our transport partner - DHL

Trade in. Purchase of old equipment, including faulty;

Computer equipment and consumables recycling service;
The main result of our joint work will be the right choice and smooth operation of your computer equipment!
«We work conscientiously, we can be trusted!»